Australia has a beautiful mix of flora adapted to the varied ecosystems present. From hardy desert flora which can survive the most arid conditions to frost resistant shrubbery and tropical plants situated in the rain forests of Far North Queensland, you can find plants, trees and bushes which are capable of surviving and thriving in all conditions. Here are some of the most prevalent and unique Australian flora which captivates loves of all thing flora:
Eucalyptus Nicholii – Narrow-leafed Peppermint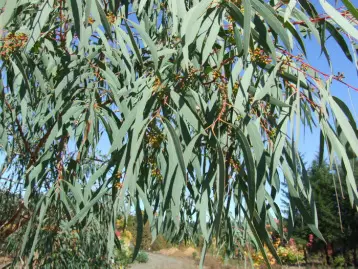 A popular and most attractive ornamental eucalypt from the New England area of NSW that is grown extensively throughout Australia and overseas. The small thin grey-green foliage and the pendulous branches can make for a most handsome tree growing to around 20m high in good conditions. Nicholii is suited to most soil types including poor soils, adapts to most climates and is frost tolerant down to around -7°C. White flowers are seen in Autumn and the bark is a fibrous grey-brown. It's one of the most popular and best known of Australia's Eucalypts and has been grown as a garden specimen for decades. It's also a good shade tree.
Melaleuca lateritia – Robin Redbreast Bush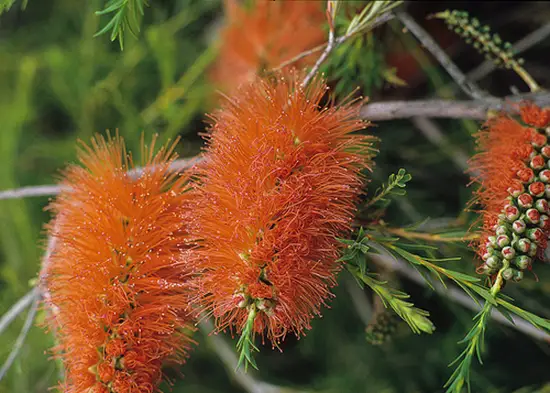 This Melaleuca has orange-red bottlebrush like flowers seen in summer and at other times of the year. The flowers grow to around 8cm long. It's a shrub to about 1.5 metres high and 1 metre wide that responds well to a light trim promoting bushiness. Melaleuca lateritia is a hardy plant in most soils and climates appreciating full sun and accepting of mild frosts. It originates in Western Australia but adapts well in Eastern Australia. It's an attractive plant that will attract birds to the garden. We have found that it likes wet soil too.
Hakea Salicifolia – Willow Leaf Hakea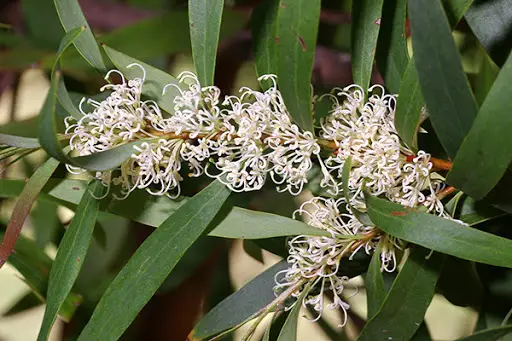 This is a fast growing shrub with white flowers along the stems in spring. Its a bushy shrub, ideal for screening reaching about 5 metres high. Leaves grow to about 12cm long and new growth has a pleasant rose colouring. Hakea salicifolia is a very hardy plant in most soils preferring full sun and accepting of part shade. Its native to NSW and Queensland but is easily grown all around Australia.   
Philotheca myoporoides – Long-Leaf Wax Flower ( Syn Eriostemon myoporoides)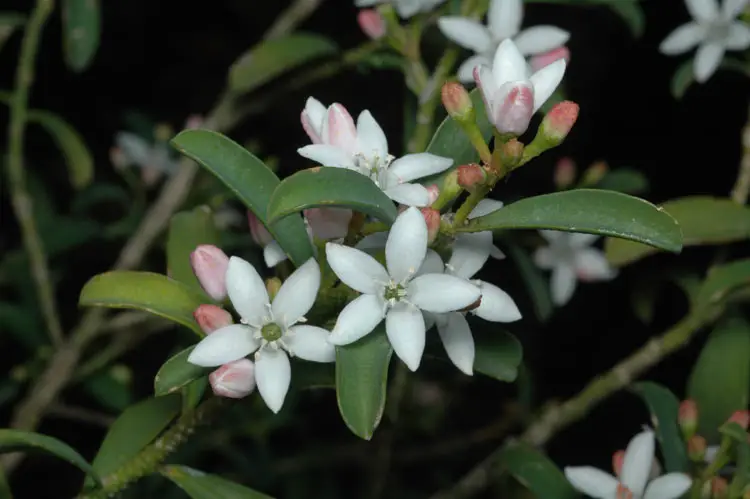 A wonderful small shrub with pink buds and white star flowers in winter or spring. Usually forms a rounded shrub of variable height and width from 1 to 2 metres suitable for informal hedges or low screens. This is a very hardy plant in reasonably well-drained soil thriving in full-sun but also accepting of some shade. Its tolerant of frost down to around zero degrees Celsius and suitable for coastal areas as well. The flowers and foliage are suitable for use in vases and floral arrangements.
Grevillea Flora Mason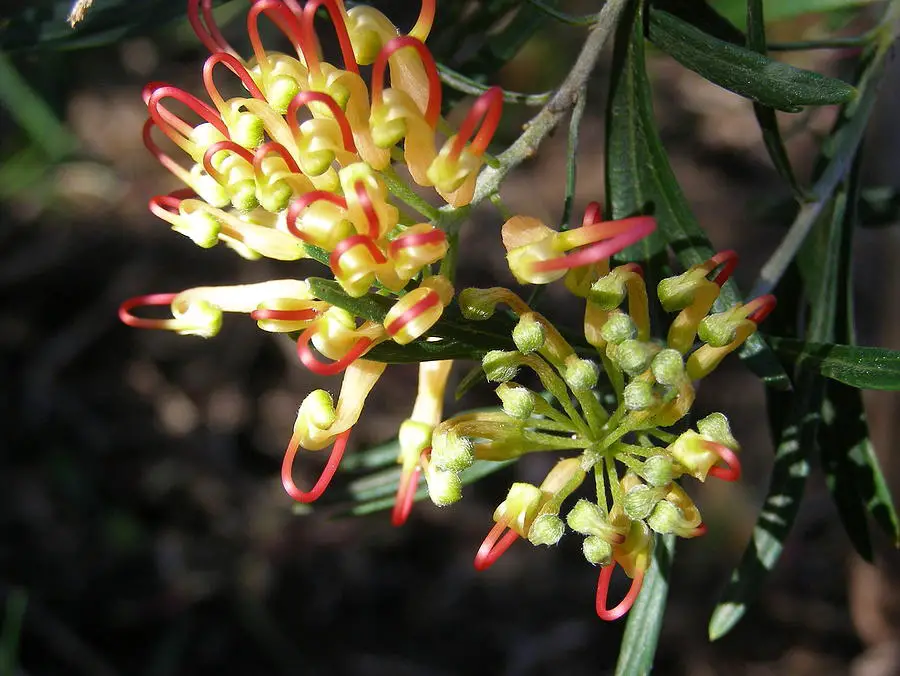 This wonderful Grevillea produces masses of flowers coloured lemon, apricot and soft pink from late Autumn to Mid-Spring. It has fine pleasant foliage and grows to around 2 metres high and wide. It accepts a range of climates and soils including frost to -7oC, alkaline conditions, full sun and part shade, coastal sites, clay and sand. Flora Mason is a bushy shrub that can be trimmed to shape. The name comes from the late Flora Mason who was a very keen native plant grower and collector from South Australia.  
Melaeuca nesophila – Showy Honey Nyrtle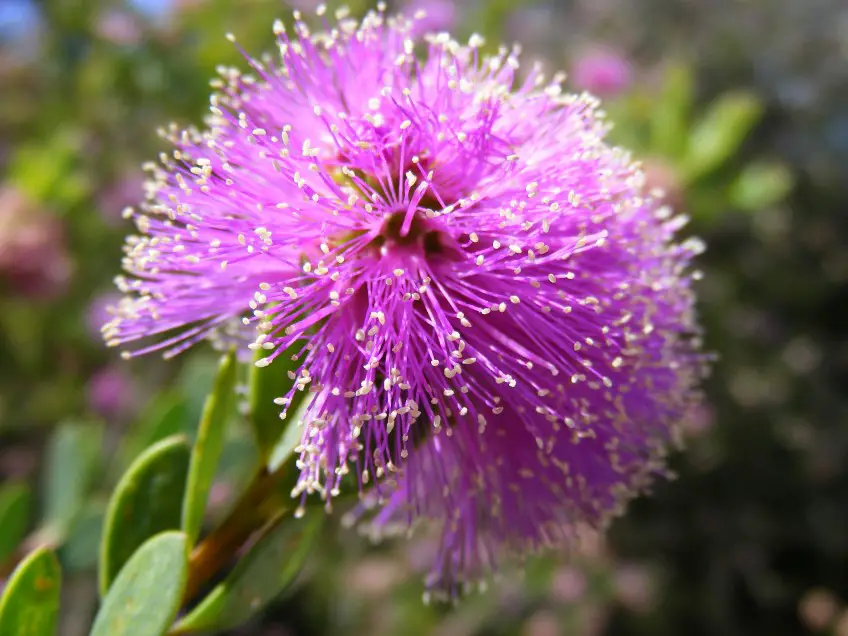 This would have to be one of the nicest Melaleucas. The contrast and combination of the pinkish/purple flower heads, the deep green shiny foliage and the light coloured almost smooth paper-bark makes this an excellent plant for the garden. The beautiful flowers are borne terminally and are about 3cm in diameter. We've found that it grows very well near the coast and also well inland where we are. Nesophila performs well in both wet and well drained soils reaching around 3 to 4 metres high and 3m wide. It's a suitably attractive shrub to use as a feature in the garden and is also a useful screening plant that grows quickly. It's salt tolerant and frost resistant down to around -7oC. It originates in Western Australia adapting well in most areas including the tropics.
Kunzea baxteri – Scarlet Kunzea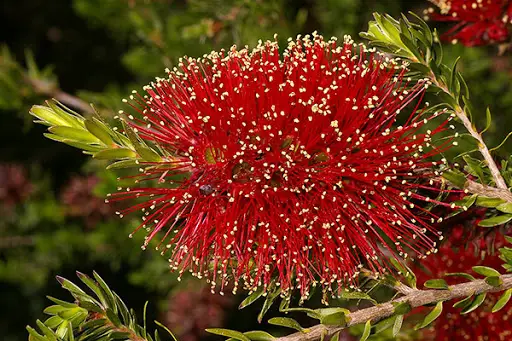 This great Australian shrub has brilliant red, oval bottlebrush type flowers with gold tips that occur in spring and summer that are extremely attractive. The flowers and fruits are very popular with birds and especially parrots. The leaves are small, soft, fine and an attractive bright green which enhance the beauty of the plant. It's an open spreading plant which will grow to around 3 metres tall and wide in good conditions and is one of the most floriferous of the Kunzea genus. It has proved very popular with gardeners over the years and is quite easy to grow. Originating in Western Australia, this is a hardy shrub that grows well in most areas preferring well-drained soil and full sun or some shade. It may take several years to flower but in that time will grow into a generous sized plant. Regular pruning will promote flowering and help to retain a desirable shape. It's frost tolerant down to around -7oC. We have grown them here at Branxton with little effort and great results.